Someone asked the other day how to clean a red blind in a bathroom if it were to be stained with soap or toothpaste marks. So we decided to go one step further & test for pencil, pen & lipstick too, using a variety of cleaning methods. Here are the results.
Because the blinds have 25 components, one of which is a sewn-in aluminium bar along the bottom edge, they are not ideal for dry cleaning, though that is certainly a possibility. Bespoke curtains often must not be washed at all as they can shrink badly, & makers tend to recommend just vacuuming them. But our blinds are more robust than this so we plastered on the offending products, left them for 3 days to mature & then tested several cleaning methods.
First step was to take a rubber to the pencil & pen marks. This removed the majority of the pencil and some of the pen (middle sample below).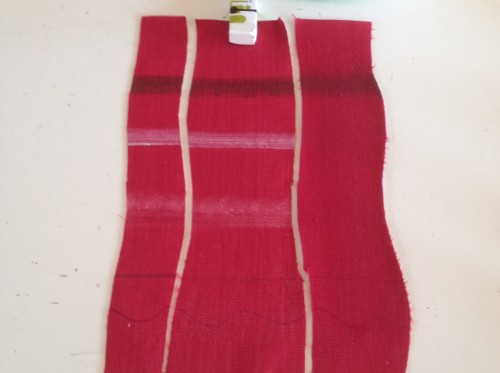 We then washed the face of all but one of the samples with a biological washing liquid (right sample above). This was applied with a sponge and rubbed pretty vigorously. Finally on one sample we used spray cleaner & on another sugar soap!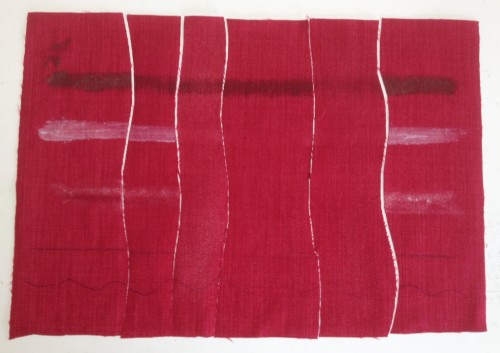 Here you see the results, from left to right;
Control, 2. spray cleaner only, 3. rubber, washing liquid then sugar soap, 4. rubber, washing liquid, 5. rubber, washing liquid then spray cleaner, 6. control.
So as you can see lipstick is the major offender, it almost comes off on sample 5 but could have been successful if tackled immediately. All the other stains can be removed, starting with a simple rubber on pen or pencil, then scrub wash & finally use a spray cleaner if necessary. Don't use sugar soap!