General information

The fabric blinds are made to measure and ideal for a wide range of windows. They are particularly suited to Listed Buildings and traditional sash windows where they can usually be fixed to the existing sash-box. See this page for information on historic properties. See the gallery for more images and the technical information page for performance details. They come complete with headrails, brackets, chains & magnets. Check out details about sash windows and non-sash windows.
Fabric – 3 ranges

Range A – 'Waldorf' & 'Astoria' fabrics – plains
Range B – 'Motif' fabric – small patterns
Range C – 'Velton' fabric – velvet
Below are more details.
The blinds have a fade-resistant poly cotton lining to the window side and you can choose a range of different fabrics to the room side.  You may be able to use a fabric of your own choice if it is suitable – check with us.  The lowest price range A is 36 colours – Waldorf [100% polyester] in 7 colours – Rose, Red, Terracotta, Cafe, Spice, Oyster, Blue [below], or The Astoria [58% polyster, 25% Acrylic, 14% Titanium dioxide, 3% viscose] range A is 27 colours (see here). Please note that the photograph is not a reliable colour match but samples can be sent.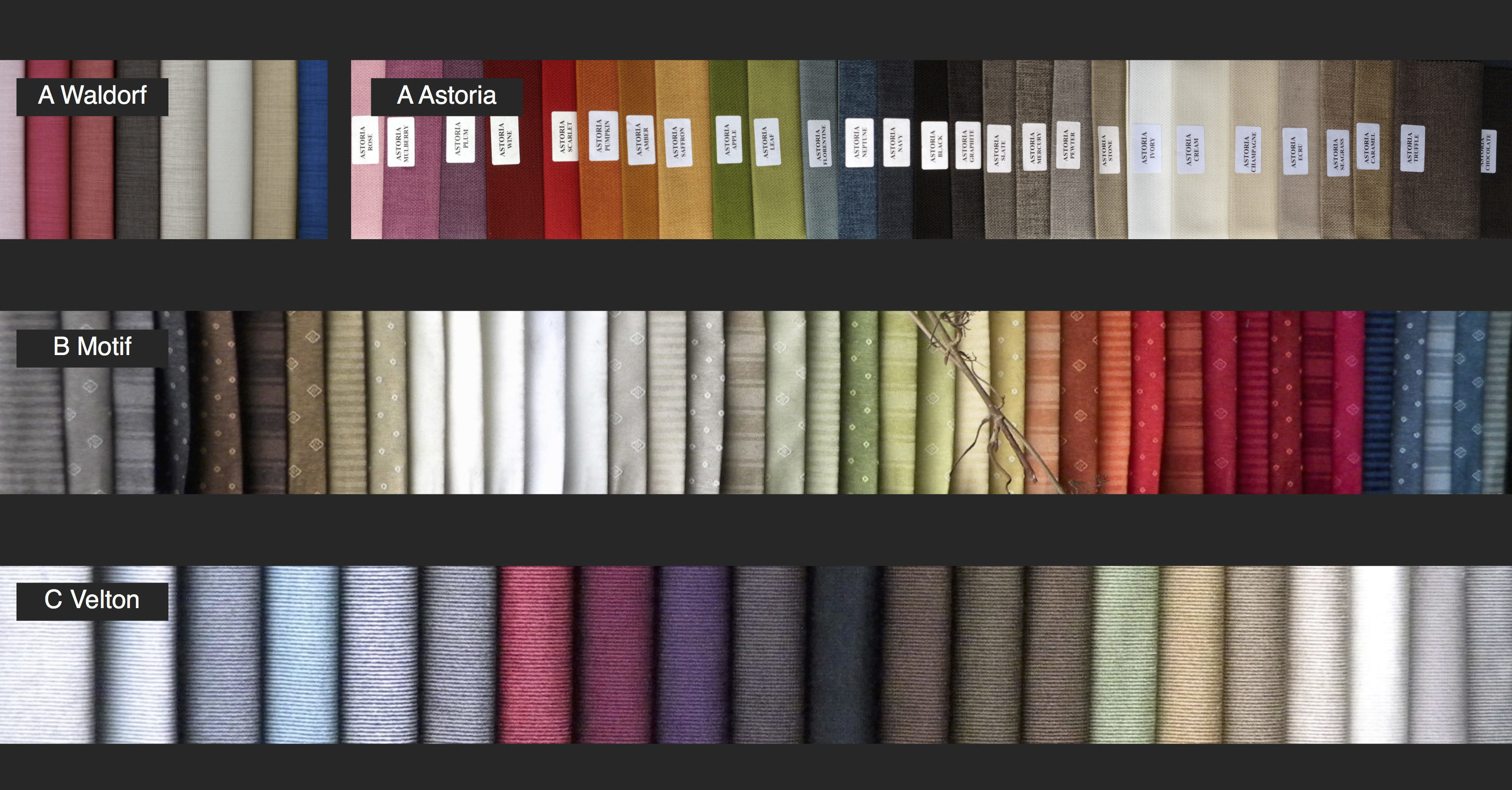 The medium range B ,Motif [100% polyster] has 40 patterns / colours. See here for details. Larger pics of 1-14 & 16-27 & 28-40.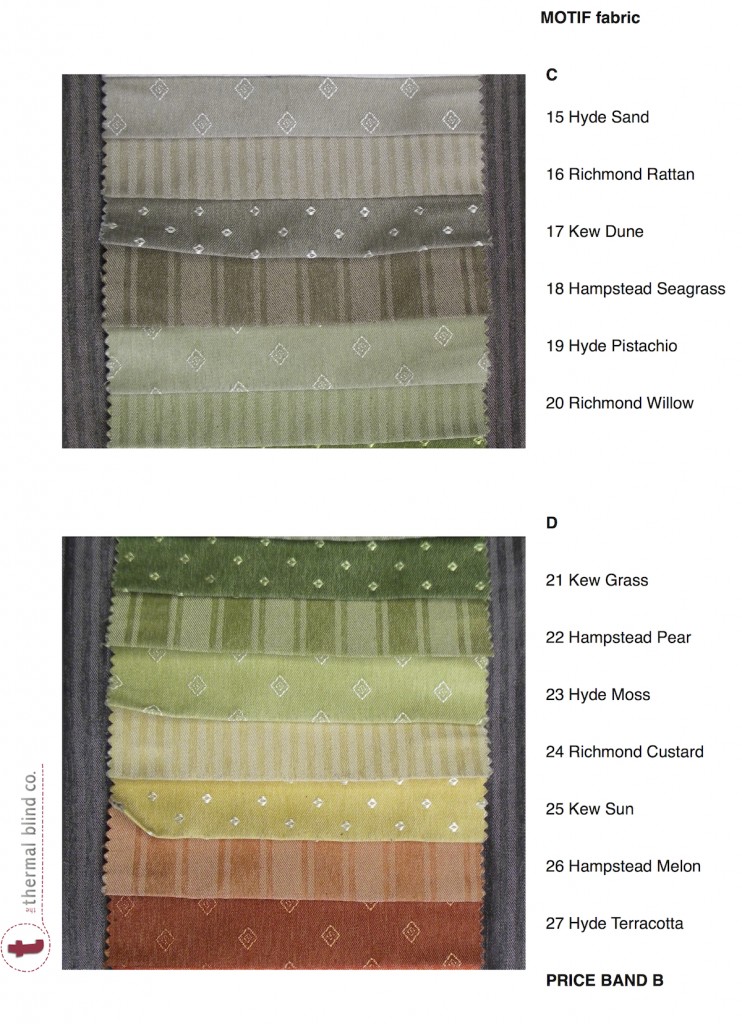 The higher priced Range C is the Velton [100% polyester] (a lovely corduroy-textured velvet plain in 21 colours – see the Velton range here.)
Blind Sizes
The fabric rolls are 1.4m wide. Blinds wider than 1.35m are fine if they are shorter than 1.25m – blinds over 1.35m in both dimensions require seams. Please contact us for details. The maximum blind width is around 2.5m & max. height around 3.0m.
Mechanism
The blinds have an aluminium headrail with a modern chain pulley system.  The headrail (42mm deep x 60mm high) is robust, neat & complies with child safety requirements. See photos. A more robust winder mechanism can be used for very large blinds.
You can choose from nickel, chrome or brass chain (photo at the bottom of this page). See Child Safety information here.
Fixings
The headrails fix with small metal brackets (supplied) which can usually be screwed into your existing window frame. See sash window page for details. Sometimes a small additional wooden frame may be needed for the magnets if you want to fix in the window recess – see non-sash window details. Photos of your frames will need to be emailed before ordering to discuss these details.
The blind fixes to the headrail with velcro and 'sticks' to your existing window frame using self-adhesive magnets, which you fix once you are happy that the blind is hanging correctly. See the download section for typical fixing details. Fitting instructions can be downloaded for sash windows here and for non-sash windows here. Child safety fittings are included.
Save
Save
Save